RM Sotheby's Le Mans - June 9, 2023
RM Sotheby's Le Mans auction. There were only four Ferraris but the results are interesting.
250 GTE 2+2 SERIES III, S/N 4155 GT (1963). Blu Sera with grigio leather. Estimate €550,000 to €650,000. Delivered new to Franco-Britannic Autos Ltd (FBA) in Paris and was commissioned to be a safety car for the 1963 24 Hours of Le Mans. On 12 March, FBA registered this Ferrari to began its job as the official safety car for the endurance race. Following Le Mans, this 250 GTE starred in the French film, "Pouic-Pouic", still sporting its Chapron fixtures. August 1963, Guy Verrechia acquired the car. In 1964, concessionaire Charles Pozzi, purchased and used it over the next 12 months. Sold to Pierre Foujean in May 1965. In 1970, Christian Fifis acquired it with 57,000 kms. The car then sat for two decades, and the consigning owner acquired it in 2017. Recommissioning at FB Motors of Haute-Savoie, France, with the odometer reading 63,219 km. Retaining its matching-numbers body, chassis, engine, and gearbox, this Ferrari is being inspected by Ferrari Classiche prior to undergoing certification at the time of cataloguing. Lot 107. Sold for €545,000.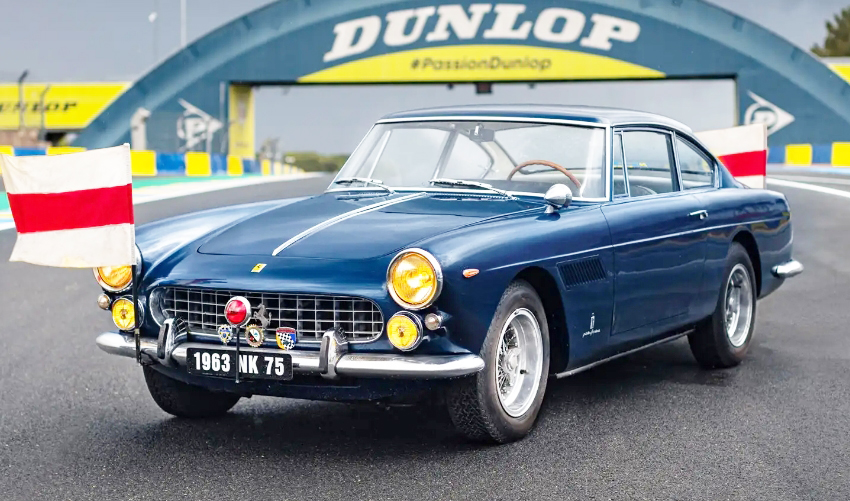 365 GTB/4 COMPETIZIONE CONVERSION, S/N 12467 (1969). Red. Estimate €4.8 million to €5.2 million. Built on 28 April 1969 as a steel-bodied road going model, and was the third production Daytona made. Retained by Maranello as a development prototype, serving as a test bed for, among other developments, a new type of wiper system. On 26 April 1971, after two years in Ferrari's ownership, Luigi Chinetti's North American Racing Team instructed the factory to convert it to competition specification. Chinetti's target: the 1971 24 Hours of Le Mans. Although the steel body was retained, the modified shell featured a quick-release fuel filler cap in the boot lid, fuel pressure gauge, Plexiglass side windows, a front spoiler, and flared wheel arches to accommodate 9" rear and 8" front wheels. A side-exit exhaust, roll cage, and a 512M-type fire extinguisher system completed the package. Sold via Grossman to Clive Baker, who ran the Baker Motors-Ring Free Oil race team. Later that year it also raced at Watkins Glen and Road Atlanta before being sold to Harley Cluxton III. In June of 1973 the car was sold to Herb Wetanson, and it remained in the USA for more than 40 years before returning to Europe. The Daytona is currently undergoing inspection for Red Book Classiche certification. Lot 122. Not sold at $4.92 million high bid.
F430 GTC, S/N 2438 (2006). Bright green and blue. Estimate €750,000 to €1 million. Ontario-based Ferri Competizione acquired in June 2006. Qualifying 1st for the New England Grand Prix at Lime Rock Park in July. After an accident it was sent back to Michelotto where it was rebuilt with a new shell. The F430 GTC continued its career with Risi Competizione the following year, where it was raced no fewer than 13 times. Its career highlight came at the 2007 24 Hours of Le Mans. It was entered for the Daytona Six Hours, where it finished 3rd in class, and the 12 Hours of Sebring. It also had a successful ALMS season scoring a podium 2nd-in-class finish at the Mobil 1 Grand Prix of Mosport as well as 3rd-in-class finishes at the Toyota Grand Prix of Long Beach, the North East Grand Prix, and the Acura Sports Car Challenge of Mid-Ohio. Its contribution throughout the season helped Risi Competizione secure the 2007 AMLS Team Championship title. It is eligible for historic race series such as Endurance Racing Legends. Lot 108. Sold for €736,250.

121 LM SPIDER, S/N 0546 LM (1955). Red. Estimate €5.5 million to €6.5 million. Chassis 0546 LM was one of four works cars built for the Mille Miglia, taking the start wearing #728, with Piero Taruffi at the wheel. After the race it was returned to Maranello, and converted to full 121 LM specification. Enlarged to 4,412 cc the straight-six now produced 360 brake horsepower. Driven by Maurice Trintignant and Harry Schell. It appeared at the Pebble Beach Concours d'Elegance in 1974, 1975, and 1976. Since leaving the factory, this 121 LM has had just four private owners over the ensuing 70 years. In 2018, it was sent to Maranello, where it was the subject of a no-expense-spared five-year restoration that was completed in 2023. Returned to its correct 1955 Le Mans configuration, including reinstatement of period features such as the central fuel filler, brake cooling ducts, and reprofiled doors. The mechanical components were overhauled—including a gearbox rebuild—while the chassis was straightened and repaired; the chassis stamp, which was lost during the previous restoration, was reinstated. Awarded Classiche certification, and is accompanied by its Red Book detailing its matching-numbers chassis, engine, and gearbox. Lot 123. Sold for €5.74 million.